Edmonds School Plan 2021-2022!!
Please see the link below for the Edmonds School Plan.
Please complete the School Plan Feedback Form (Below)
Edmonds School Plan Community Review/Feedback Form
---
Attention Edmonds Families!
LEARN WHERE YOU LIVE (Click HERE)!
March 2, 2021
Family Academy: Courses & Training (FACT) Online
Click this LINK for previous FACT YouTube Courses!!
---
ATTENTION PARENTS!
Boys & Girls Clubs of Philadelphia is offering a unique opportunity to Edmonds families. Our D.E.F.Y. (Digital Experiences for Youth) Club will begin this month. The program will operate Monday-Friday3pm-6pm on Zoom. Activities for DEFY include, drawing, games, STEM Activities, Read-a-louds, and much more! For more information, please email lescalleetl@bgcphila.org.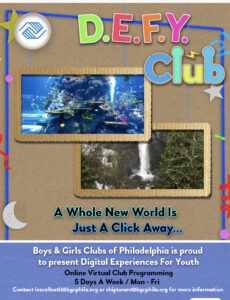 ---
Attention Middle Years Parents!!
See the GFS Flyer below!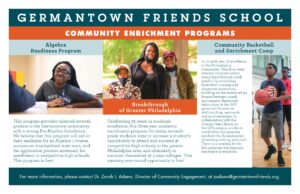 ---
Located in Northwest Philadelphia and situated in the Cedarbrook Neighborhood, Franklin Spencer Edmonds Elementary School (FSEES) serves more than 600 students from Pre-Kindergarten to the 8th grade.  We are one of 15 schools in Learning Network 6.  FSEES was, in 2016, designated as a City of Philadelphia Community School.
Our catchment area generally includes and extends to Cheltenham Avenue to the North; Stenton Avenue to the South; Limekiln Pike/Upsal Street to the East; and, Mount Airy Avenue/Easton Road/Wadsworth Avenue to the West.  We welcome, on a limited, space-available basis, children and families from outside of our catchment area to join our school community.
At FSEES, we strive for continuous improvement in all that we do.  In order for us to continue to do that and to do it well, we need for our students' families, as well as members of various business, civic, educational, professional, public service, religious, and social organizations in and around our neighborhood and city to join with us to fulfill our charge of providing all of our students with a great public school close to where they live.
Will you join us?
---