Our History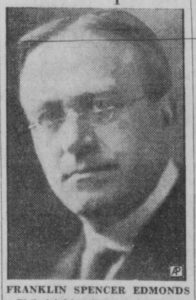 "Blessed is the man who had the gift of making friends for it is one of God's best gifts…"
– from the headstone at Franklin Spencer Edmonds' gravesite
Constructed in 1948, Franklin Spencer Edmonds Elementary School has served the children and families of our beloved community for more than seven decades.  With varying grade level organizations over the years and currently educating students from Kindergarten to the 8th grade, in addition to Pre-Kindergarten students in our Bright Futures Program, our school is named for Franklin S. Edmonds, Esq., an American scholar, pedagogue, attorney, and statesman and native Pennsylvanian.
Edmonds, a Republican member of the Pennsylvania General Assembly who served in both the Pennsylvania House of Representatives representing Philadelphia County and later the Pennsylvania State Senate representing Montgomery County, was born on March 28, 1874 in Philadelphia to Henry R. and Catherine Anne (Huntzinger) Edmonds.  A graduate of Central High School, Edmonds went on to earn both his undergraduate and law degrees from the University of Pennsylvania.  In addition to the education he received at Central and Penn, Edmonds also spent time at Cornell University where he was an Andrew D. White Fellow.
Admitted to the bar to practice in the state and federal courts, professionally Edmonds was a partner in the law firm Edmonds, Obermayer & Rebmann.  In addition to this, he served as a law professor at Swarthmore College and as the solicitor for the Philadelphia Museum of Art.  Edmonds was undoubtedly no stranger to public service.  Aside from his service in the General Assembly, he also served as a member of the Philadelphia Board of Public Education, as the Receiver of Taxes for Philadelphia County, and as the Pennsylvania State Tax Commissioner.  Finally, Edmonds was active in a number of civic and professional organizations in the city and around the state, including the Schoolmen's Club of Philadelphia, the Union League, and the Historical Society of Pennsylvania, just to name a few.
Married to the former Elise J. Beitler, Edmonds died on October 29, 1945 while in office in the Pennsylvania State Senate.
In 2004, to honor the service and contributions of one of our school's long-serving, esteemed Principals, Mr. Richard J. Topolsky, who passed away suddenly shortly before that, the Franklin Spencer Edmonds Elementary School community came together to dedicate our school's auditorium and playground to his memory.  A cooperative effort among and between the School District of Philadelphia; Edmonds Elementary School staff, students, and families; and, friends from throughout the community-at-large, the at the time newly-minted playground provided something that we hoped would be enjoyed by all for generations to come, a safe play area in the neighborhood.
The story behind the Falcon is an interesting one that took shape forty years or so into Edmonds' existence.  During the early 1980s when our school ended at 6th grade, a contest was held where the 6th grade students were given a unique opportunity – a chance to leave their "mark" on our school.  They were invited to submit drawings of the new mascot they proposed for our school to a panel of judges who would then select what it would be.  Out of all the submissions they received, the judges selected the Falcon because it was the best symbol to represent just what Edmonds Elementary School is to our community: the epitome of leadership and strength.  Before our mascot was chosen as a Falcon, we were Teddy Bears!